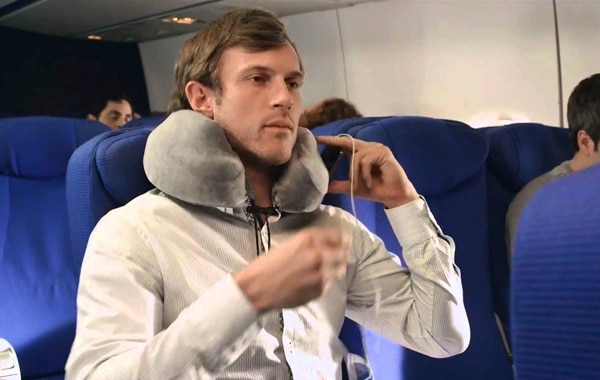 Anyone who travels knows that the accommodations of a typical airplane can be sparse. It's fine for a simple hour-long flight, but when you're heading across the country, you might start looking for ways to make yourself more comfortable. The same goes for any form of travel, whether you're going on a road trip and swapping driving responsibilities, or riding the rails for an extended length of time.
One of the easiest ways to make your travel more comfortable is with a neck support pillow. Nine times out of ten, the most painful part of travel is finding a way to rest your head. If you fall asleep without such a pillow, you'll quickly end up with neck pain that can ruin an entire vacation.
We've put together a great list of pillows you can choose from, along with our reviews. We've also made sure to include a variety of different styles and materials, for those of you with allergies or preferences outside of the most popular options.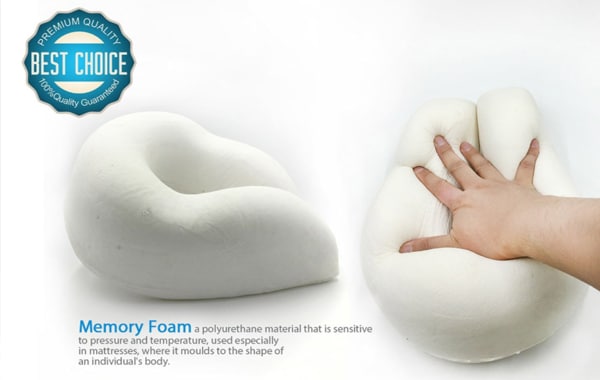 This one goes right up at the top of our list because it's just about perfect. The velour outer shell is luxuriously soft, while the memory foam interior is just the right mixture of firm and soft. The whole thing squeezes down into its travel sack with ease, so it doesn't take up a lot of room when you're packing it in your carry-on.
You may notice a large number of the reviews for this pillow have disclaimers about getting it for cheap in exchange for a review. The pillow on its own is rather pricey, and though it does come with a money-back guarantee, it's still a steep cost if you're skeptical. Honestly, you too can contact the seller and ask about reviewing the product to get your own discount. Chances are you'll love it too much to want to claim the money-back guarantee at all.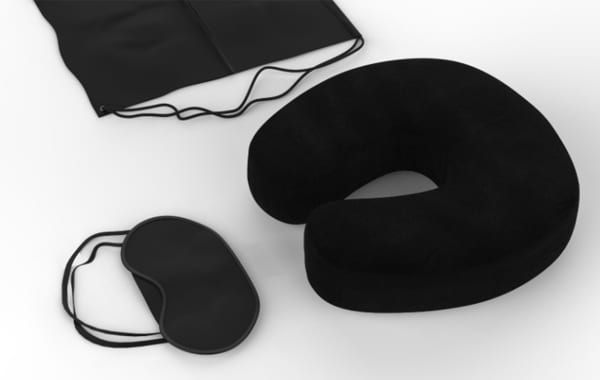 This is in many ways the "discount" version of the above Comrest pillow. It's very much the same in style; a U-shaped pillow with memory foam interior, but it comes at a much lower price. This is because the memory foam is a little denser and stiffer than the more comfortable, more expensive Comrest model. The outer shell is not quite the same comfortable velour, but it's a perfectly serviceable fabric that is machine washable and even ironable.
This pillow even comes with an extra nylon sleep mask, if you find it difficult to sleep with the ambient light of a plane, train, or traveling automobile. It also comes with a drawstring backpack, which can be used as a carrying case for the pillow or as a separate backpack should you so desire.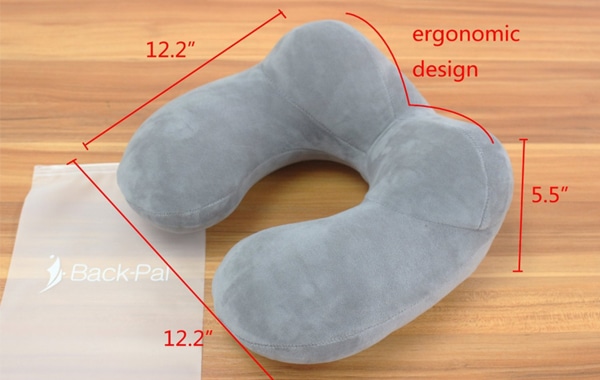 Not a fan of memory foam? It's okay, you're not alone. This inflatable pillow brings you support purely from air. It has the same sort of U-shape design, with camel humps in the back to support the sides of your head and help prevent stressful side to side swaying while you sleep. The outer cover is velour, and the internal bag is PVC material similar in durability to a good air mattress.
One of the ideal features of this excellent pillow is that, since it's inflatable, it can be adjusted to your exact ideal support level. The generally recommended inflation is around 85%, but if you prefer a stiffer pillow or need something with a little more give, it's easy to add or remove air. Just be aware that it's a standard mouth inflation valve, and does not come with a pump of any sort.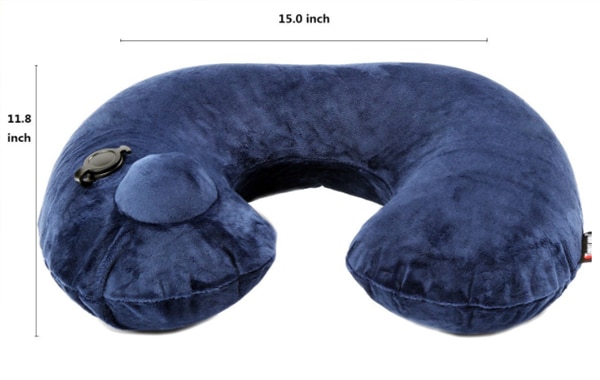 This inflatable pillow is very similar to the previous entry, save for the lack of camel bumps in the back. The cover is microvelvet for comfort. It comes with a travel case, noise-cancelling earplugs, and a wide sleep mask made out of memory foam.
The best feature of this particular pillow is that it has a build-in pump for inflation and deflation. The strange lump on the edge of the U is a built-in pump that can be used to inflate the pillow by increments. Additionally, the valve can be depressed to let out air, either in small bursts or all at once.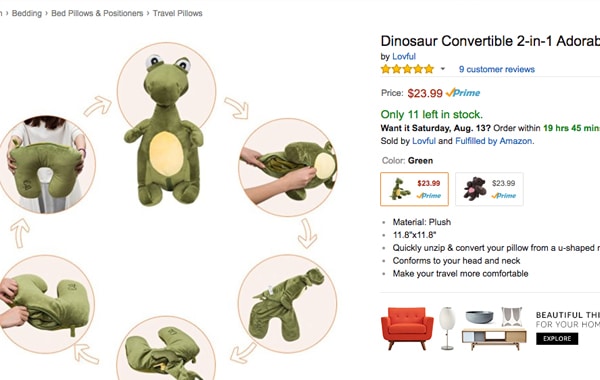 Enough about the pillow for adults, what about our kids? This pillow is a unique neck pillow in the standard U-shaped design, with a plush cover and internal microbead stuffing. However, this pillow is more than meets the eye. It can be unzipped and unfurled to turn it from a naptime travel pillow into a daytime toy in the shape of a dinosaur. An alternate version is similar, but converts into a teddy bear instead.
I will say that, due to the design of the reversible animal, it's not always a nice even pillow inside. I consider it better for children than for adults, who may be more sensitive to the variance in stuffing and internal consistency. It can work in a pinch, and is perfectly serviceable for most people, but it's clearly made and marketed for children.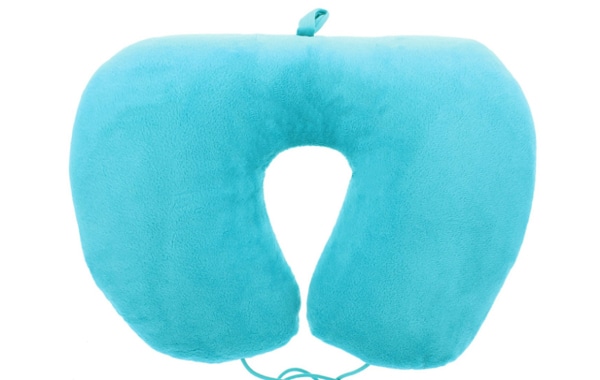 This is the ultra-budget option on the list, which reflects solely on the price and convenience, not the comfort of the pillow. It maintains the standard U-shape design and is filled with microbead stuffing, along with the typical faux suede outer covering. The outer covering isn't removable, but the pillow is easy enough to clean.
As for unique features, this pillow has a small loop on the back for hooking on a carabiner or other latch, and an elastic band on the front so it can be tied around your neck. It can also be conveniently tied to luggage or a coat. The pillow comes in a variety of colors as well. For the price it can't be beat, but it does lack some of the convenience of an inflatable or memory foam pillow that can be compressed for storage.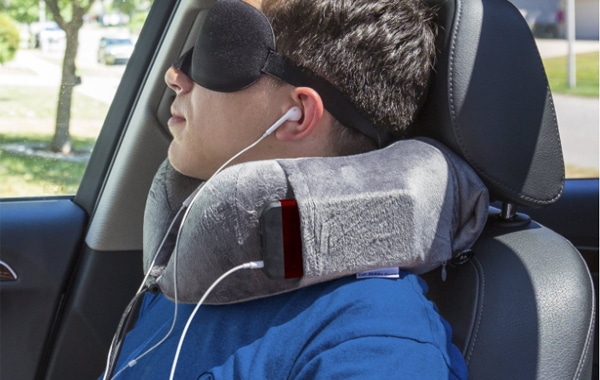 Some pillows don't collapse, and some come with carrying cases of their own, but who wants to keep track of all of those parts? This pillow combines a lot of additional features with some pillow standards to make it perfect for those who travel frequently.
First of all, the pillow is memory foam, with all the comfort that entails. The outer covering is a soft plush fabric, but it's packed with additional features. A drawstring and an extra flap allow you to compress and twist the pillow into a compact shape, making it its own storage case. When unfolded, two compartments on the side allow you to store additional items, such as the packed-in earplugs or a sleep mask. You can also use the side slot for your phone or an MP3 player, to keep it close at hand.
In addition, this pillow comes with an RIFD-blocking passport sleeve. Whether or not you want that depends on your style of travel; it's unnecessary for domestic travelers, but can be an added layer of peace of mind for frequent international travelers.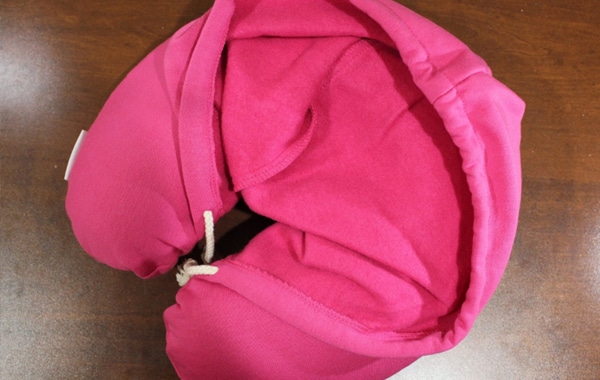 This pillow at first reeks of the As Seen On TV gimmick, but it's so much more. There's not a whole lot to it; it's a traditional U-shaped memory foam pillow, but in addition to the pillow, it has the hood from a hooded sweatshirt built in and sewn on, complete with drawstrings. It's ideal for those who want a little privacy with their pillow, or who would prefer some eye shade without blocking out their senses completely with a sleep mask. The outer covering and hood are made from a cotton-polyester blend that is perfectly safe in the washing machine, and it comes in several colors.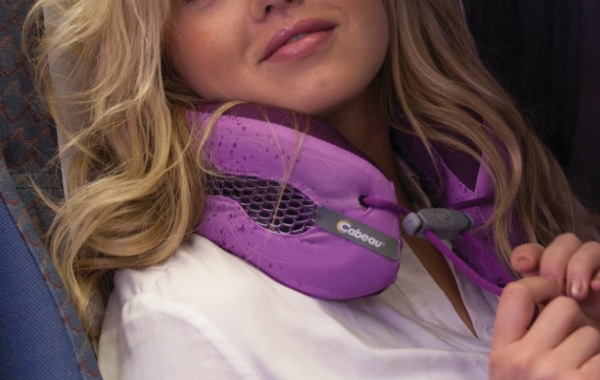 Back up on the higher end of the price spectrum, this pillow eschews the traditional pillow basics and brings science in to solve problems many other pillows have. For instance, have you ever found yourself overheated and sweating beneath your standard U-shaped pillow? This pillow is designed for air circulation, to keep you cool while keeping you comfortable.
This pillow is made with memory foam, but includes a central cooling vent in the middle to reduce sweat and warmth that would otherwise accumulate. It can be curled up into its deluxe travel case, secured with a zipper, which itself can be clipped to other luggage. It even has netting on the side for storage of additional items, like earplugs or a sleep mask.
We found that this pillow did indeed make the whole dozing experience cooler, but only in conditions where there's reasonable air circulation. If there's no air passing over the cooling vents, it doesn't do as much to keep you cool, and you may start to question the price you paid for it.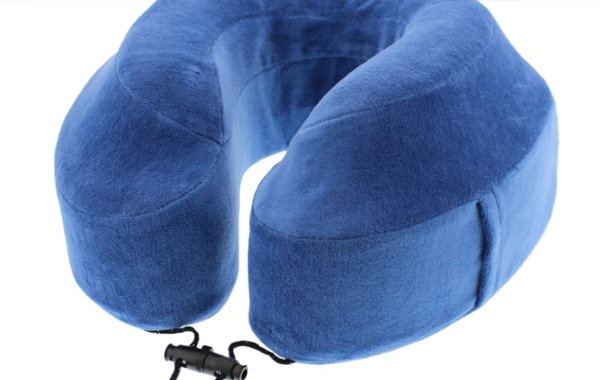 This pillow is manufactured by Cabeau, same as the previous pillow, but it's not as highly engineered or as expensive as the previous option. It doesn't have the cooling vents, for one thing, nor is the carrying case quite as fancy. However, it's still a perfectly serviceable memory foam pillow. The primary advantage of this pillow over others is that it's quite tall, taller than most, so those of you with longer necks or who prefer a higher support will be pleased with it. It also come sin a variety of different colors for the cotton-polyester outer covering.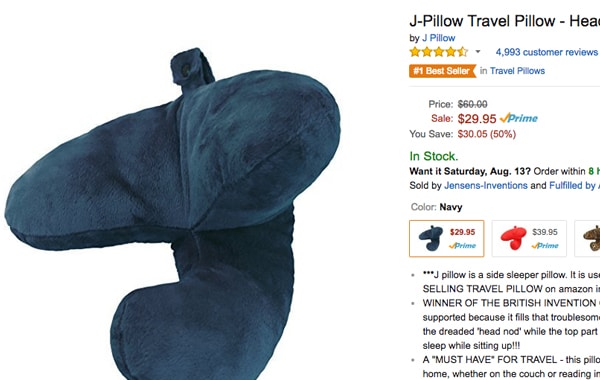 The J pillow is an interesting and unique design for a travel pillow, designed for side sleepers more than for straight sleepers. Those of us who have trouble sleeping directly upright and prefer to lean against the nearest surface will be able to make great use out of this pillow. The hooked part of the J curls under the chin to keep your head from tipping forward as you sleep, while the curved upper U cradles the head to give you traditional support. The only downside is that it's a little bulky and doesn't come with a carrying case, so you have to figure out how to pack it on your own. That said, it does compress fairly well, so it's easy enough to shove in carry-on.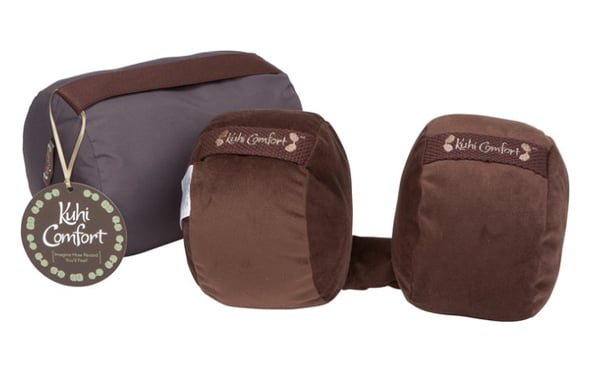 This uniquely designed pillow is like a U pillow with the back support removed. It looks more like a dumbbell or a pair of pillows attached by a string. This is by design! For those of you who have used a traditional U pillow and found it to be uncomfortable the way it tilts your head forward, this pillow is a godsend.
Any time you're in a position to travel and use a travel pillow, you can encounter seats that tilt too far forward or that don't have the option to recline. Using a U pillow will often crane your neck forward, and make it stressful to attempt to sleep. That's what this pillow is for. It provides cradling support on both sides, while allowing the back of the seat to give you the angle you prefer.
That said, this pillow will definitely take some practice to get used to, and is more designed for leaning slightly to the side than it is for pure upright sleep. Once you get used to it, it works very well, but it's certainly not for everyone.
One Final Note
One thing to note, that many of you may already know, is that memory foam in all its forms tends to have one issue; the odor. Memory foam, due to its materials and the way it's made, packaged, and shipped right away, tends to have a scent somewhat similar to industrial solvent. It's pungent and a little unpleasant, but it goes away after a while. The problem is, if you bought a pillow and decided to use it right away, you get that scent front and center. It's highly recommended that you unpack and air out any memory foam pillow you want to use for at least a few days before you need to use it while traveling, to save yourself and others from the odor.