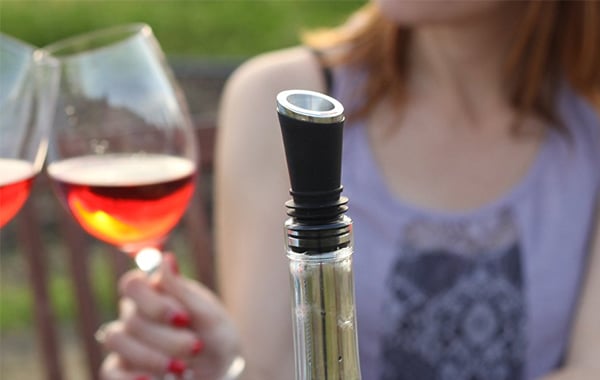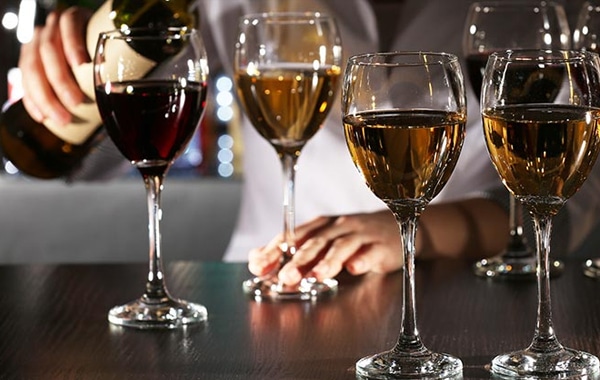 From quirky to useful, wine lovers have a range of tastes. We're also a sizable demographic, so there are as many interesting gifts as there are people to give them. If you're looking for a gift for the wine lover in your life, you've come to the right place. Here are nine great ideas for a range of different interests.
This first gift idea comes in over a dozen different forms, but they all both decorative and functional. When you hand one over to your friend, they may think they're getting an unusual novelty wine, until they look a little closer. When they do, what they'll find is the neck of the bottle draws away from the bottle itself. Inside is an umbrella. They come in a variety of "bottle" designs and colors, from traditional to contemporary to a little quirky. They're not just basic umbrellas either; some of them have designs that expand upon that of the bottle case itself.
What makes these umbrellas special? Unlike a traditional portable umbrella, the bottle doubles as a storage case. Walk in out of the rain and you don't have to deal with a wet umbrella dripping on the floor, soaking items in a purse, or otherwise being a hassle to deal with. You can simple wrap it back up and put it in the bottle, which seals it in to prevent drips. Store it away where it can't soak your other belongings, until you have time later to pull it out and let it dry. Be sure to follow proper care instructions, of course!
These umbrellas can be ours for a mere $20. They work as both rain protection and sun protection, should you desire a parasol instead. They're durable, with steel frames and polyester fabric, in a three-fold design.
Accidents happen. Cookies crumble and water spills. With wine, particularly reds, a spill can mean a much more permanent result. We've all seen the cliché of the red wine spilled on the white carpet, and how it devastates a room. No longer! You can pick up a bottle of wine stain remove, to pack along with your favorite red as a gift, or simply to send them when you know they've spilled before.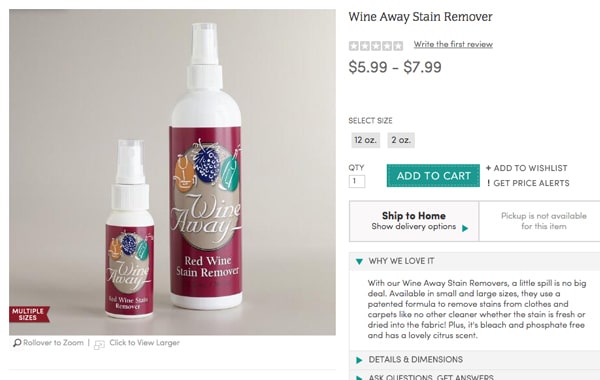 You have two options for this particular stain remover; a small bottle or a large one. The small bottle is ideal for travel, for backup, and for emergencies. Drip a little wine on your sleeve? Pull this out and take care of it before the stain even begins to set. The larger bottle is perfect for home use, as a secret weapon against the worst spills.
The wine away stain remover uses a special formula to remove wine stains from fabric following simple care instructions. It includes no bleach and no phosphates, so it's free of harsh chemicals, and it smells simply wonderful. You'll almost wish you spilled more often.
A 2oz. bottle can be had for $6, while the 12oz. bottle will run you $8.
The VinniBag® is a unique travel accessory with inflatable air chambers that protect liquids and fragile items. These versatile bags provide superior protection against impact and leakage, and are engineered to withstand fluctuations in altitude and temperature.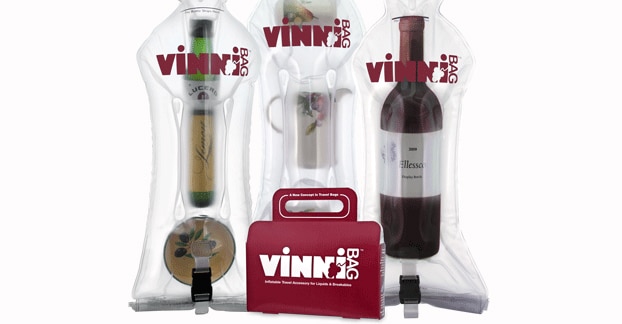 Items are immobilized & suspended in a liquid-tight air cushion –  wine, spirits, olive oil, gourmet treats, keepsakes, medications, camera lenses… You can use little or no inflation too, making them great for wet swimsuits and soiled items. Ideal for luggage, backpacks, boats, sports, or just the car trunk. An Eco-friendly travel essential, VinniBag is reusable, recyclable and made of durable materials that will last for many journeys. Great gift for frequent fliers, wine & spirit lovers, foodies & gourmets, collectors and outdoor enthusiasts. Easy-to-use, stores flat, TSA friendly & USA Made.
Your friends unwrapping this gift might at first mistake it for a magic wand, and they could very well make a Harry Potter joke. Don't worry if they do; they'll soon realize getting the perfect glass of wine is no laughing matter. The Tempour is a luxury for those who don't have a dedicated wine cellar, or even a dedicated wine fridge. So what does it do?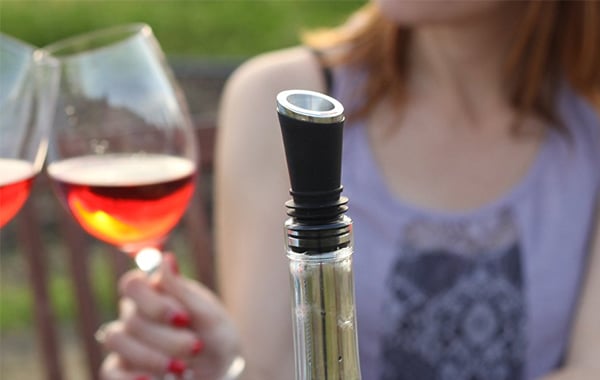 Tempour is a modular item designed to be thrust into any bottle of wine – or sake, or champagne, or spirits – and pour the perfect glass. Add and remove modules as per your needs. It has a pourer to avoid drips and spills, a sediment filter, and a chiller that cools wine as it pours. It also has a silicon stopper to cap it off in between glasses. It's stainless steel, so there's no flavor retention or contamination between bottles. The freezer gel – chill before you pour and your wine can be sun-warmed and still come out cool – is medical grade and non-toxic. Plus, if you don't need all of those features, you can add and remove individual bits and use just the pourer, just the filter, or just the chiller. It even aerates as it pours.
You can get the Tempour for $35 direct from SoireeHome on Amazon via the link above, or you can get it from any of the many authorized resellers if you're in the Kansas, Missouri, and Oklahoma area.
Another product provided by SoireeHome, the dimple is a unique beverage glass designed for wines and other chilled beverages when you don't have the luxury of keeping them cool. The glasses allow you to chill your wine without diluting it with ice or using stone coolers or plastic freeze blocks that can leave a foul taste in your drink.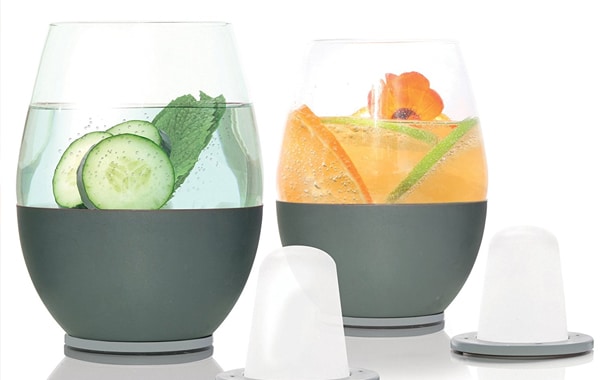 The 22-oz. glass is completely unique in design. It's lead-free Pyrex glass in the shape of a stemless wine glass. The lower half is surrounded by an insulated hand grip, so even while chilled, it's comfortable to hold. Where it gets unique is the eponymous dimple, a rise in the bottom of the glass. If you look beneath, you notice it's hollow. That's because there's a second part, the dimple pack itself, which is a freezer pack. Keep it in the freezer and it will chill drinks for 30 minutes or more. The dimple inserts in the bottom of the glass and stays put via a firm magnetic hold, which doubles as a coaster for your now-chilly drink.
The dimple glass set is a set of two, including two glasses and two dimples. Like the Tempour, the set can be had for $50 from the Amazon, or at one of the many authorized resellers.
Wine is more than just a beverage. It's a way of life. Wine goes great as a drink along with food, or just because, but it's also a great ingredient in many forms of cooking. Or, as is the case with a salad, generally not cooking.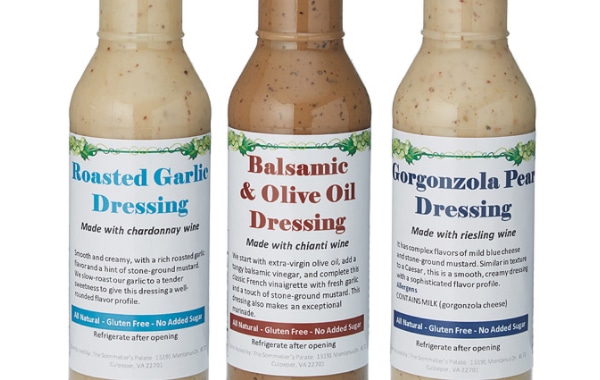 This set of three salad dressing options is sure to have something for everyone, or at least everyone who loves wine and salad. First up is a roasted garlic dressing made with Chardonnay, a hint of mustard, and a rich flavor. Second is a tangy balsamic and olive oil dressing made with Chianti in a French vinaigrette. Excellent for salads and for marinades! Third is a gorgonzola pear dressing that combines the edge of blue cheese with a light pear, a touch of mustard, and Riesling wine.
All three dressing options are gluten free and feature all natural ingredients with no sugar added. They're made locally in Athens Ohio, but can be shipped around the world. The full set is yours for just $37. At that price, you can order a set for yourself and for your friends.
What gift list would be complete without a novelty soap? Everyone gets them, and a lot of us eventually use them, but let's be honest; these are stocking stuffers and filler gifts more than they are the centerpiece.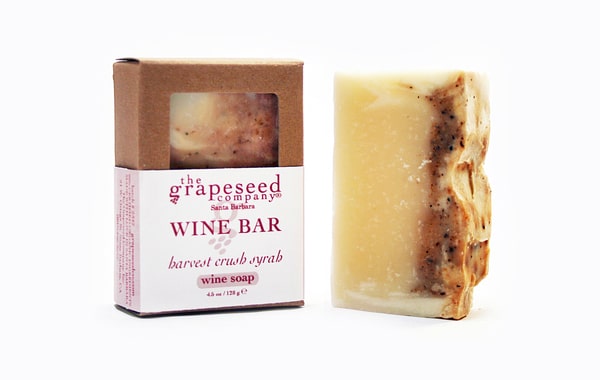 With that in mind, why not give this soap a try? From the Grapeseed Company, the Harvest Crush Syrah wine soap is an organic soap made with a whole host of features.
Aromatic with almond, lavender, berry, and grape.
Cleanses and purifies skin with white tea, grape and local wine from Santa Barbara.
Exfoliates with crushed grape seeds from local CA wineries.
Packaging made from recycled paper and a recyclable or compostable box.
A single almost-half-pound bar clocks in at $9, which is perfectly reasonable. Oh, and if you're not quite sure you want wine in your soap, they also have other options, including coffee and lavender olive leaf.
No, this isn't a ridiculous backpack with build-in wine rack. It's actually a cleverly designed wooden contraption that folds in three different configurations. Fully closed, it resembles a birdhouse with three holes cut in it. It can hold one bottle of wine inside it, latched so you can carry it without risking the bottle. In the same configuration, the three holes form a vertical wine rack for three bottles of your favorite set of vintages.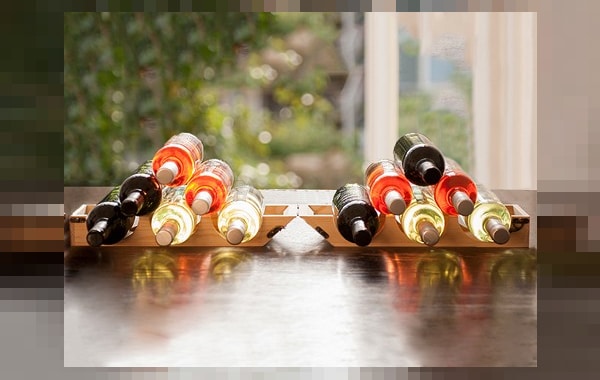 When you unfold the contraption, you can then latch it up into a pyramid shape. Those holes from before become half-circles, each capable of holding a bottle of its own, so your counter-based storage rack now holds six bottles in elegant display. Or you can forsake latching it up entirely and lay it flat, where you can stack bottles on top of bottles for a total of 12 stored together. If you're confused, their site shows each configuration, including the 12-bottle stack in the comments.
You might expect a high price for such a versatile rack, but it's actually very affordable, weighing in at only $25. It makes a great gift, particularly when you pre-load it with a bottle of your friend's favorite wine.
9: Display Your Conquests with the Wine Cork Holder
Some people like function over form. Some people don't like to adorn their homes with physical evidence of their hobbies. This is not for those kinds of people.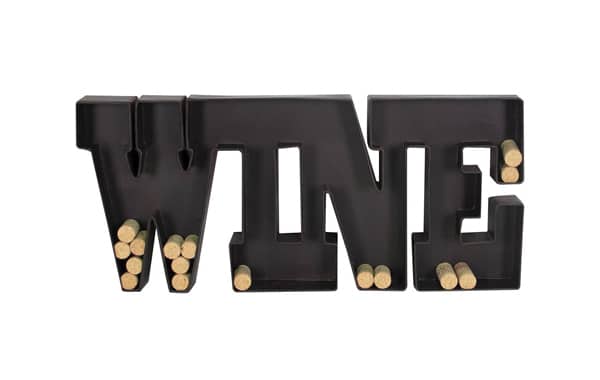 This product is simple. It's the word "WINE" spelled out in black metal. It's not flat, either; instead, it's recessed to allow you to store wine corks, should you desire. Each new bottle, each unique purchase, can be displayed forever by putting the cork in the letters to fill it out. Do you fill it out or only partially fill it? That's entirely up to preference. It looks good either way.
To be a little more specific, the wine cork holder is 10 and a quarter inches tall, 23 inches wide, and two inches deep. It's made to mount on a wall, though it could just as easily adorn a counter or mantle if your gift recipient doesn't have the wall space. Though the item is on sale form Target, it's not available in stores, and is an online-only exclusive.
All of the above gifts are aimed at casual wine fans, for casual holidays. Christmas, birthdays, various wedding and child celebrations; these are common, they're par for the course. Some events call for something a little more unique. A retirement, a long-awaited promotion, the purchase of a new home; these are rare and exciting moments, and they're worthy of a unique and lasting gift.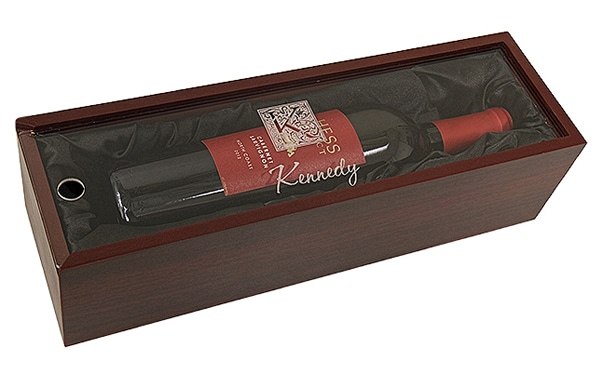 This gift is a wine presentation box. It's made of a rich, dark rosewood, with chocolate velour lining the inside, waiting to cradle a bottle of wine ever so gently. The clear glass-like lid is an acrylic made for durability, because it's the custom element here; a monogram you can input when you order the box. This monogram includes two elements; a single letter, an initial, in an ornate block script like something out of a classic novel. Below it, a script with a name or message, up to 25 characters in length. Both are laser-etched into the acrylic, for a visible and lasting commemoration.
The box and associated laser etched lid are a total of $37, which leaves plenty of room in your budget for a nice bottle of wine to go with it. The best part, though, is that the box can be reused indefinitely. Whenever there's a need to bring wine from one place to another, the box is an ideal way to transport it.
Regardless of the event, any of these items will make an excellent gift for the wine fan in your life. There's something for everyone, and every last one is eminently affordable. What are you waiting for? You're sure to please with any option.